Fluitend loop ik langs de schappen van de supermarkt. Ik gris een liter Griekse yoghurt uit de koeling, gevolgd door een uitnodigend uitziend zakje ongebrande noten. Via een omtrekkende beweging langs de bananen kom ik uit bij de bosbessen, ook die verdwijnen genadeloos in mijn mandje. Eén ding is zeker, er moet weer gewerkt worden aan een summerbody.

Ik fluit rustig 'Time of my Life' en sluit aan bij de kassa. Blijkbaar is het concept boodschappen doorgedrongen tot alle lagen van de samenleving. Het is namelijk gezellig druk. 

Achter mij in de rij sluit een man aan. Zo'n typische man, u kent ze wel. Het duurt dan ook niet lang of deze man begint ongeduldig te worden. In een niet te definiëren accent roept de man om een extra kassa. Na een aanhoudende klaagzang galmt ineens "Kassa 7 gaat voor u open. U kunt uw boodschappen vast op de band leggen. Let op, dit is een pinkassa".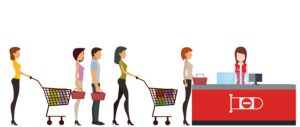 Dit is voor de man het teken om het op een lopen te zetten. Als een bronstige gazelle met een motorische beperking  stormt hij naar kassa 7. Hij gooit zijn citroenen, azijn en zure room op de band en kijkt met een voldane glimlach om zich heen. Hoofdschuddend kijkt de rest van de wachtende menigte hem aan.

Het duurt even voordat de extra caissière kassa 7 bereikt. Inmiddels ben ik al geholpen en loop richting uitgang. Achter mij hoor ik nog net "Sorry meneer. Dit is een pinkassa. U kunt hiernaast afrekenen" Met een grote glimlach loop ik door.

Karma!